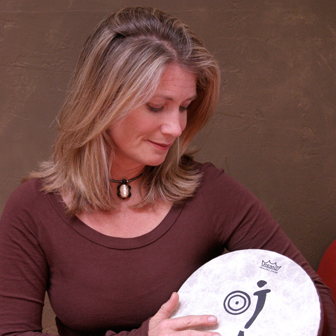 The key to discovering your Gift is to notice what feels naturally joyful and to follow that good.
—Christine Stevens, "Discover the Gift"
Christine Stevens is a modern day troubadour who introduces people all over the world to musical expression in the form of drum circles. Through her Los Angeles-based company, UpBeat Drum Circles, Ms. Stevens offers programs for corporate teambuilding, diversity training, and personal growth seminars. A featured speaker, she is equally at home in the middle of a 1,000-person drum circle or on the podium addressing thousands of professionals. As Director of Music Therapy and Wellness Programs at Remo Drum Company, Ms. Stevens has led music and wellness seminars in England, Japan, Hong Kong, Korea, Taiwan, and the United States; she is also the author of the Healing Drum Kit. In 2007, Christine Stevens created Ashti Drum (Peace Drum) in Iraq, creating conflict resolution through drumming.